Customer Care
Our Contact Centre in Puerto Plata Cares about You – Our Customers
Our team of telecom professionals working for you.
Every month the Fibernetics Contact Centre receives, on average, 22,000 calls from Worldline customers and potential customers. Our agents' job is to handle this enormous call volume in a polite, professional manner helping with technical issues or and selling our services to even more Canadians.
The average wait time: Less than Two Minutes.
Here's a challenge for you. Survey any other telecom company's website. How many of them post their wait times? Considering the average person waits on hold 13 hours a year, many of them with their phone or Internet provider, the answer is most likely none.
Yet at Worldline, we're proud of our numbers. And we should be. Pete Cross, one of our original employees with the company, left his Kitchener, Ontario home and started the Fibernetics Contact Centre 10 years ago in Puerto Plata, Dominican Republic. He has trained a team of customer care pros who have helped us continue to post record high sales, and are a big reason Worldline has the highest customer retention in the industry.
Our support team managed out of our Cambridge, Ontario head office, are singularly focused on making and keeping Worldline customers happy.
Our customer care team of trainers and highest level of support, the level 3 team, mentor and work with all of our customer facing staff to ensure they are up to date with the latest in technological and customer support all in an ongoing effort to make their Worldline experience the best in the industry.
Pete Cross on the Fibernetics Contact Centre then – and now:
"There were only a handful of us working in a small office in Kitchener at the time. We all kind of looked around at each other trying to think who would pack up their life and come down to a foreign country to give this thing a shot."
"I think it came down to the fact that I was the only one without a serious girlfriend at the time, so I started the adventure. Nobody was sure if it would work, but we started slowly with a few agents working nights handling overflow calls."
"It was mostly employees from the hotel where I was staying looking to earn extra money after their shifts. During all of this, I was also trying to adapt to a life outside of Canada in a very different place where everyone was speaking Spanish. At first, even basic chores like grocery shopping were ordeals! Gradually we expanded our hours and before you knew it, we were operating 16 hours a day with a solid team of customer service agents. "
"Now we have around 60 employees operating seven days a week covering every facet of customer service for Fibernetics. I have a strong support team of supervisors, trainers, IT and QA Staff etc. helping me manage our operation and we are light years ahead of where we were even a few years ago. We are breaking sales and QA records on a regular basis and strive to get better each and every day."
Cool Facts About The Dominican Republic (DR)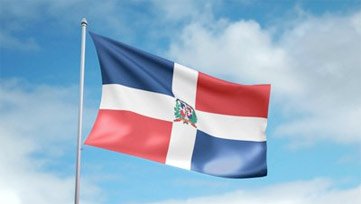 The Dominican flag is the only one to have a bible in it. Adopted on November 6, 1844, this is one of the oldest flags in the world. It has it's roots in the Haitian flag of the 19th century.
The DR is the oldest country of the Americas and it was discovered by Christopher Columbus on this first trip in 1492.
Canada's Miss Universe 2015 Paola Nunez was born in the Dominican Republic. She comes from a large musical family, many of them performers destined for the stage.
The national sport of the Dominican Republic is baseball. Some of the world's best baseball players are Dominicans. Over 800,000 children play organized baseball in the DR.
Canada's Toronto Blue Jays set a MLB mark in 2014 with 6 Dominicans in their lineup. Reyes, Cabrera, Bautista, Encarnacion, Francisco and Sierra.
Santo Domingo is North and South America's first capital city, the site of the first catholic cathedral, first university and hospital. Some of the original buildings have been restored and can be visited in Santo Domingo's Colonial City.
The oldest Cathedral in the world is situated in Santo Domingo. The first stone for the Cathedral was laid in 1514 by Diego Columbus, Christopher Columbus' son.
Dominican Oscar de la Renta is one of the best-known fashion designers of the 21st century. Born in Santo Domingo, his clothes are worn by celebrities such as Laura Bush, former first lady of the US and Congresswoman Hillary Clinton.
Spanish is the official language of the Dominican Republic, although English, Italian, German, and French are also spoken throughout the country.
The Dominican Republic is credited with creating and developing the merengue style of music, which is a fast-paced, rhythmic dance music.
The Amber Museum in Puerto Plata houses the famous amber stone with a prehistoric mosquito preserved inside, which can be seen in the box office hit, Jurassic Park. Amber is a fossil tree resin found in only a few places in the world.
The Dominican Republic is known as the bread basket of the Caribbean because it grows, farms and catches almost everything that's served for breakfast, lunch and dinner.
Director Francis Ford Coppola filmed scenes of the The Godfather Part II in the Dominican Republic's capital city, Santo Domingo.
With distillation and aging processes perfected over the course of a few centuries, the DR is known for its excellent rum. Brugal, Bermudez and Barcelo are some of the world's most well-known brands from the DR.
Brewed in Santo Domingo, Presidente Beer is the DR's most popular beer and served in just about every establishment in the country.