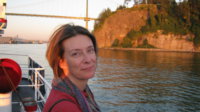 This is Joan. She's been working in our operations division as our revenue assurance specialist. What that means is, she has been talking to our customers on a daily basis ensuring that their non-technical needs are met when it comes to everything Worldline. And she's been fantastic at it.
Passionate about solving customer's problems, Joan believes, as we all do, that the most important asset Worldline has is our customers. Now Joan is going to take on more responsibility in the company in the finance department and we're looking for someone to fill her fashionable, yet practical, shoes.
Reporting to the Customer Experience Manager, the Revenue Assurance Specialist is responsible for the customer facing portions of the billing, payments, collections and account maintenance for our Residential customers. The Revenue Assurance Specialist will actively contribute to a positive customer experience throughout the customer's lifecycle with Fibernetics.
This role will also contribute on an on-going basis to improvements that will impact the customer's experience, across any organizational boundaries, including Product Management, Operations, Development, Marketing, Support and Logistics.
Responsibilities:
Liaison for banks in regards to credit card charge backs, bank reversals and payments
Processing Residential Refund Cheques
Escalated Residential Customer Billing Inquiries/Disputes
Accepting and recording payments
Past Due notification and Accounts Receivable Management
Customer correspondence and face to face interaction at head office
Work closely with the customers to understand their concerns and provide that feedback  to the company
Interact and build open relationships across all departments to improve communication and alignment
 Review processes to identify Operational gaps in the customer experience based upon direct and indirect customer feedback
Contribute to an on-going initiative to provide the best experience possible at the fairest prices in the industry
Qualifications:
Drive changes in mind-set around how we organize work and function to eliminate inefficiencies
Background needs to be in customer facing roles including account management, customer support, and sales
Strong background in maths or finance
Must be bondable
Candidate needsto have general telecom background or experience;
Language proficiency in English, as a key requirement with proficiency in French as a plus;
Track-record ofsuccess in customer-facing roles
Experience in acall center environment is an asset
 Work with minimal supervision on a variety of project work
This position requires both team work and individual accountability
 Attention to detail a must
Competency withMicrosoft Office
Post-secondary education or equivalent experience would be an asset
If you are looking to join one of the fastest growing telecom companies  – and one that is a great place to work, please forward your resume and cover letter to:  careers@fibernetics.ca. Plus, as a bonus, you get to meet Joan!