This past Monday we made not one, but TWO huge product announcements:
1. Ultra Psycho Insanely Fast (not its real name) DSL Internet 50Mbs for only $59.95/month, and…
2. Premier Digital Home Phone with all the features thrown in free, plus 200 minutes of Canadian long distance as a cherry on top, for only $9.95.
In the words of one Facebook commentator, "Holy crap!"
And speaking of Facebook, to keep up the trend, this coming Monday, April 1st, in honour of that 50Mbps High Speed Internet release, we've decided to, just for fun, give away a 50″ LG TRUSLIM Frame TV.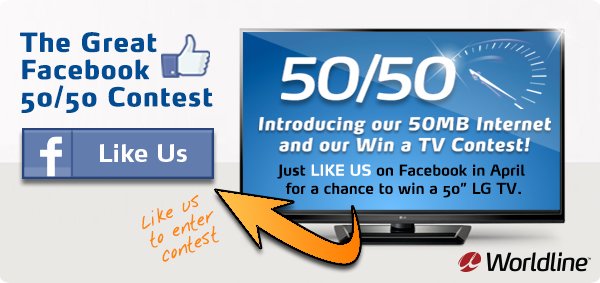 That's right – for the Month of April, anyone who "Likes" us on our Facebook Page is automatically entered to win this thing of beauty. (And it really is. It's in CMO John Stix's office right now so no one at Worldline runs away with it.)
If you have already "Liked" us on Facebook, thanks! And don't worry you're already entered.
Oh, and anyone who signs up in April for the High Speed DSL 50? They're entered as well.
It all start's this coming Monday.
April 1st.
No foolin'