Like many of you out there, Worldline employees are adjusting to this new reality of spending all of our time at home, finding ways to balance our work life, home life, and, for many of us, kids.
If you have children at home who would normally be in school or day-care, there's a challenge in knowing how to fill their days. Today Worldline employees are sharing how their kids are staying busy. We hope you'll find something here that works for you:
Start by Constructing a Schedule
Kids who attend school are accustomed to a daily schedule. Routine provides a sense of safety and predictability which is always important for children but is especially vital during this time when there is more stress and uncertainty.
Khan Academy has a sample daily schedule. Consider giving that a try, or sit down with your kids and agree on a schedule which includes some or all of the following:
meals and snacks,
lesson times to work on language, math, and science,
music practice,
free time to chat and game with friends online, watch tv or movies, or read books
crafts
chores,
daily exercise
Participate in Daily Chores
If you've never implemented chores in your home, this might be a good time to start. Parents who are working from home need space in their day to get their work done and they don't want to end their workday with a huge amount of tidying-up. Getting children involved in cleaning up after meals, vacuuming, and doing laundry, helps develop their self-esteem as they see that they are an important part of the running of the home. Search the internet for "age appropriate chore charts" to get an idea of what your kids can do to help out.
Enjoy Hobbies and Learn a New Skill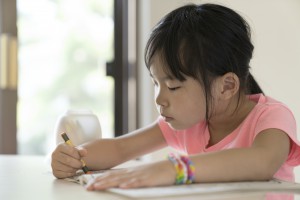 Time that's not being filled with school, extra-curricular activities, and traveling back and forth, can be devoted to learning something new. Free online tutorials and apps can be found for pretty much anything you or your child might be interested in: learn a new language, take up a new hobby like knitting or painting, learn to play an instrument, or investigate a subject you're interested in. Some of our Worldline kids are searching for free Lego instructions to create new structures, trying their hand at cooking, downloading colouring pages, using Duolingo to learn a new language, and using Khan Academy and education.com to help with school work.
Keep in Touch with Friends
One of the most popular apps to arise out of this time of isolation is HouseParty, a face to face social networking app which allows users to chat, play in-app games, and even move between different rooms as if they're at a real house party. Worldline's teenagers are especially enjoying this app right now as a way to stay connected with large groups of friends, but even the Worldline adults are using it to host Saturday night "parties" and catch-up with each other socially.
We hope you found something here that will help fill your kids' days. Watch our social media and future blog posts for more recommendations on how to find balance during this stressful time. We hope you're staying healthy and safe.