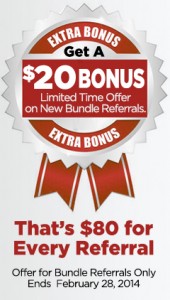 I do! I do! Okay, we all do.
And now there is a very easy way for you to do just that. It's the brand new 
Worldline Pay-It-Back Program
– the simplest referral program we could think of.
We've had a referral program for a while, but to be perfectly honest, it was a bit of a pain to manage. It was labour intensive, requiring a lot from our bundle customers to get a decent bang for their buck. Despite that level of difficulty, many of them took advantage of the thing, because for some months last year, over 30% of our new customers came from referrals.
Now we've made it super simple. When bundle customers sign up for the program they receive their very own personal Pay-It-Back Referral Link that they can then share on Facebook, Twitter, Pinterest, email… wherever they want.
That link goes directly to their own service availability page for the referred customer, and that's it, we take care of the rest.
To start the upgraded program with a bang, we're amping up the pay out as well. For a limited time only (until the end of February) for each and every successful referral Worldline Bundle customers will receive a $5.00 off their monthly bill (for 12 months) and a $20 bonus. That's a total of $80.00 per referral. Doing the math that means the average Worldline bundle customer has to refer only eight customers a year, to get their Unlimited Internet and Home phone for nothing. As in bupkis. As in Free!
But wait, there's more. The person they refer? Just because they're one of our customers friend, we give them an instant $25.00 signing bonus. And then they can start referring as well.
Here's how it works:
Step 1
Refer your friends. Get your own personal Pay-It-Back Referral Link which you can email, or share on social channels. You can also use the simple Pay-It-Back Email Form and fill in up to ten of your friends email addresses. That's it. Your job is done.
Step 2
Your friends and family sign up. We will give them an instant signing bonus of $25 off their first bill and they are on their way to saving even more.
Step 3
We pay you. Each referral will earn you a one-time credit of $20.00, plus $5.00/month for 12 consecutive months. That's $80.00 in total credits for each and every successful referral.

That's it. Straight forward. Simple. Easy as pie. So, if you are a Worldline Bundle customer, what are you waiting for? It'll take you just a couple of minutes to get going, and saving more on what is already the best deal in Canada. And if you're not a Bundle Customer, maybe it's time you became one – because there are few things better than free.


Get started here: