We unveiled our new Pay It Back program a few weeks ago, in the hopes that it would make it easier for our bundle customers to get the word out about Worldline, and at the same time, give them something back in return.
We introduced it with what is called a "soft-launch", meaning very little fan-fair except for a blog entry and some posts on social media. We wanted to ensure that all the bugs were fixed first before unveiling it to our entire customer base. (Obamacare taught us that).
It turns out, a bunch of them found out anyway because our referral numbers have jumped almost 100% in the short time since. It turns out our little tweak makes it super-simple to refer friends and family, which was the plan, and our Bundle customers are taking advantage of the deal. Here's how it works:
Step 1
Refer your friends. Get your own personal Pay-It-Back Referral Link which you can email, or share on social channels. You can also use the simple Pay-It-Back Email Form and fill in up to ten of your friends email addresses. That's it. Your job is done.
Step 2
Your friends and family sign up. We will give them an instant signing bonus of $25 off their first bill and they are on their way to saving even more.
Step 3
We pay you. Each referral will earn you a one-time credit of $20.00, plus $5.00/month for 12 consecutive months. That's $80.00 in total credits for each and every successful referral.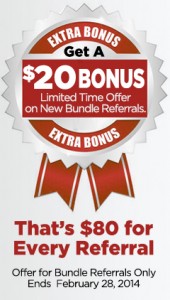 As soon as the new bundle customer is signed up, they can also jump in and start spreading the Worldline news. Isn't it great when a plan comes together?
So thanks to all of our bundle customers who found out without us telling them, and to all of you who haven't started "Paying-It-Back," what are you waiting for?